Beschrijving
Remote, harsh, and starkly beautiful, Greenland amazes at every turn. An independent island under the sovereignty of Denmark, Greenland is considered one of the hardest to reach places on the planet. Wind, waves and ice have carved this landscape, and continue to govern all aspects of life here, for locals and visitors alike. Join us as we sail the south western tip of the island, from the craggy coasts of Narsarsuaq to the jaw dropping scenery of Kangerlussuaq.
The Ship – Silver Cloud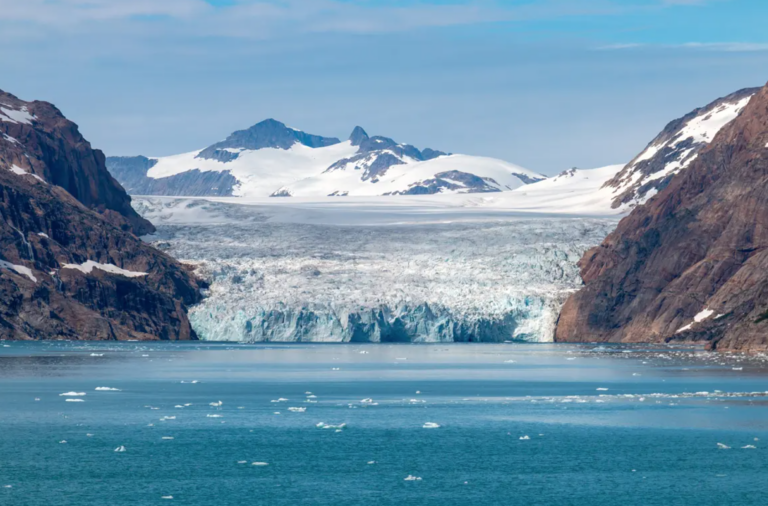 Silver Cloud is the first hybrid ship in our fleet and brings the remote and remarkable to you in ultra-luxurious comfort. Her large suites, destination itineraries and unparalleled service make her truly special. Four dining options will tantalise your taste buds, and as 80% of her suites include a veranda, watching a breaching whale from the comfort of your balcony never been so personal. A limited number of guests in polar waters (240 vs. 254), mean that Silver Cloud has one of the highest crew to guest and space to guest ratios in expedition cruising. With her 20 zodiacs, 10 kayaks, possibilities are almost limitless with ship-wide simultaneous explorations.
Day 01 FRI, JULY 14 – Kangerlussuaq GREENLAND
Kangerlussuaq is a settlement in western Greenland in the Qeqqata municipality located at the head of the fjord of the same name (Danish: Søndre Strømfjord). It is Greenland's main air transport hub and the site of Greenland's largest commercial airport. The airport dates from American settlement during and after World War II, when the site was known as Bluie West-8 and Sondrestrom Air Base. The Kangerlussuaq area is also home to Greenland's most diverse terrestrial fauna, including muskoxen, caribou, and gyrfalcons. The settlement's economy and population of 512 is almost entirely reliant on the airport and tourist industry.
Day 02 SAT, JULY 15 – Sermilinnguaq GREENLAND SAT, JULY 15
Some 60 kilometers southeast of the entrance to Kangerlussuaq Fjord and halfway between Maniitsoq and Kangaamiut is Sermilinnguaq, one of the smaller fjords leading to the Greenland Icecap's westernmost valley glaciers in South Greenland. Northeast of Maniitsoq's rugged scenery with peaks rising hundreds of meters into the sky, the narrow fjord with its steep mountainsides is one of the preferred halibut fishing areas for the local fishermen from Maniitsoq and Kangaamiut. In 2019, the Greenland Environment Fund granted resources to clean up and remove derelict fishing gear which had washed up along the Sermilinnguaq Fjord based on the fishermen's request. Razorbills, Brünnich's Guillemots (Thick-billed Murres), Common Guillemots, and Black Guillemots, Glaucous Gulls, and Black-legged Kittiwakes –all attracted by the rich fishing grounds- have formed eight bird colonies in Sermilinnguaq. As a result, 3,000 hectares of the fjord are considered an Important Bird Area.
Zodiac Cruise with Silversea Expedition team
Day 03 SAT JULY 15 – Maniitsoq GREENLAND
Located in the central part of Greenland's western coast, Maniitsoq is Greenland's sixth-largest town, and home to less than 2700 inhabitants. The main attractions are the small museum and old cemetery at the northern end of town. At the community hall local artist and artisans usually exhibit some of their carvings and beadwork. The beadwork pieces are not created just as souvenirs for visitors — the national dress of the West-Greenlandic women uses an elaborately beaded collar. Fishing trips and even heli-skiing on nearby mountains are considered Maniitsoq's other assets. Its local name (meaning 'place of rugged terrain') contrasts somewhat with the name given by the Danish in 1782 ('New Sugarloaf').
1 Included Shore Excursion
Hiking with Silversea Expedition team
Day 04 SUN, JULY 16 – Paamiut GREENLAND
Paamiut, in southwestern Greenland is definitely an off the beaten track destination but well worth the journey! The brightly coloured houses dotted around the port bring warmth to the artic scenery. The history of the community dates back to 1500 BC but it was in the 18th Century that Paamiut evolved into a major trading hub within Greenland. Seal fur, whale products and soapstone carving made it prosperous. Today the draw is the opportunity to immerse yourself in such an unspoiled, majestic landscape and to observe the rare wildlife within. During the warmer summer months, minke whales, fin whales and humped back whales are all common visitors and with sharp eyes, can be seen from the shore. Craggy mountains, ethereal glaciers and clear fjords offer endless possibilities for hiking and kayaking. Rare sea eagles – Nattoralik, have made their home in these remote parts and seeing one is said to bring you good luck. Guardians of this incredible natural legacy are the Paamiut people who are justifiably proud of their culture and extremely welcoming to visitors. There is a small museum where you can learn about the fascinating local customs, traditions and way of life.
1 Included Shore Excursion
Paamiut Museum Visit & Town Exploration
Day 05 MON, JULY 17- Tassermiut Fjord GREENLAND
07:30 – 13:00
Considered one of the Ten Wonders of the Arctic, Tassermiut Fjord is a 70-kilometre (44 mile) incision into the pristine wilderness of south-western Greenland. The fjord is entered near the settlement of Nanortalik (population 1200) and winds its way through scenery that is reminiscent of the dramatic mountain landscape of Patagonia.
Cruising up the fjord by ship reveals a spectacular panorama of jagged peaks perched atop steep-sided mountains, interspersed with u-shaped side valleys and moraines – all clear indications of glacial action. The lower slopes are green with lush vegetation but quickly rise to barren walls of rock. These sheer walls make Tassermiut Fjord a Mecca for rock climbers, who rate such climbs as Uiluit Qaaqa (Ketil), Ulamertorsuaq (Uli) and The Baroness as being some of the best in the world. For the less active among us, just processing and comprehending the vista itself seems challenging enough.
The Tassermiut Fjord region has always attracted people. Inuit made hunting camps around the fjord mouth to target the ringed, harp and bearded seals that are abundant when the pack ice drifts in. The Norse too, settled the area in the 10th century, drawn no doubt to the valleys that promised fertile grazing for their precious livestock. They were also perhaps drawn to the astounding natural beauty of the region, as if it was blessed by divine hand, something that is readily apparent to the eager traveller that makes it to this little-explored corner of Greenland.
Day 06 MON, JULY 17 – Nanortalik (Kujallek) GREENLAND
14:30 – 20:00
There is a wonderful legend that the Vikings named Greenland Green and Iceland Ice in order to confuse potential attackers. Because it is quite the opposite; if Iceland is full of emerald forest, then expect ice in Greenland. Lots and lots of ice. Thus one shouldn't be too surprised to learn that the name Nanortalik means "place of polar bears". Although, as Nanortalik is Greenland's most southerly town, don't be too disappointed if you don't see any. In truth, Greenland's polar bears typically live much further north. What you will see however is Mother Nature at her finest. Vertical cliff walls, sheets of floating sea ice and a plethora of Arctic wildlife that amount to an adventurer's wonderland. As Nanortalik itself is located on a small island in the southern tip of Greenland, nature is never far away, wherever you find yourself. The optimistically named city centre is surrounded by the pristine waters of Tasermiut Fjord and dotted with the colourful houses you would expect this far north. Traditionally, artisans' houses were painted different colours to showcase what they did, i.e. commercial houses were red; hospitals were yellow; police stations were black; the telephone company was green and fish factories were blue. Today it is more a case of anything goes! Nanortalik locals are warm and welcoming, and are known to extent the art of Kaffe-Mik to its visitors. This old tradition is where a family invites guests into their home to drink coffee and taste their famous Greenlandic cake.
2 Included Shore Excursions
Explore Nanortalik, Greenland
Day 07 Day at sea JULY 18 – INTERNATIONAL WATERS
Days at sea are the perfect opportunity to relax, unwind and catch up with what you've been meaning to do. So whether that is going to the gym, visiting the spa, whale watching, catching up on your reading or simply topping up your tan, these blue sea days are the perfect balance to busy days spent exploring shore side.
Day 08 WED, JULY 19 – Nuuk (Godthab) GREENLAND
06:30 – 18:00
3 EXCURSIONS
In the bustling capital city of Greenland, you could be forgiven for forgetting you are in such a vast and isolated country. Nuuk is Greenland's economic and social hub, home to more than a third of Greenland's population, and although it feels like a world capital, scratch the surface, and a uniquely Greenlandic character can be found underneath. Nuuk Cathedral overlooks the gorgeous old Colonial Harbour district and the Greenland National Museum, resting place of the legendary Qilakitsoq mummies, the true highlight of the museum's archaeological collection. Above the Colonial Harbour sits downtown Nuuk, with lines of Scandistyle apartments, a bustling shopping district, the Greenlandic Parliament, Nuuk City Hall (which welcomes visitors to see its artwork) and even outdoor cafes selling locally produced food and beer. These nods to modernity compete for space with local artisan boutiques, the meat market selling the catch from Nuuk's vast fjord-lands, and the stunning Katuaq Cultural Centre, where blockbuster movies, as well as local and foreign performers entertain the people of Nuuk. Although Nuuk has long been a melting pot of Danish and Greenlandic ideas, this is a city where Greenland displays its sophistication, with the Country's only traffic lights, roundabouts and University. Most of all, expect to find a multitude of friendly people who are proud of who they are, and equally proud of the city they call home.
3 Included Shore Excursions
Nuuk Cultural Historical Walk
Hiking with Silversea Expedition team
Expedition activities with Silversea Expedition team
Day 09 THU, JULY 20 – Evighedsfjord GREENLAND
2 EXCURSIONS
Evighedsfjord (Eternity Fjord) is a large fjord northeast of Kangaamiut in southwest Greenland. The fjord has a length of 75 kilometers and several branches with numerous glaciers coming down from the Maniitsoq Ice Cap to the north can be seen. The Evighedsfjord has several bends and whenever the ship reaches the supposed end the fjord continues in another direction and seems to go on forever. Qingua Kujatdleq Glacier is at its southeastern end. At the northwestern end a U-shaped valley has seven glaciers coming down from the mountains but not reaching the water. The glaciers had their maximum extent around the year 1870 and have gone through several cycles of advance and retreat. The mountains on either side of the fjord can reach in excess of 2,000 meters and the fjord has a depth of up to 700 meters. Evighedsfjord's snowline is at 1,100 meters and the Evighedsfjord region is famous as one of Greenland's best heli-skiing areas.
2 Included Shore Excursions
Zodiac Cruise with Silversea Expedition team
Kayaking with Silversea Expedition team
Evigheds Glacier
Day 10 THU, JULY 20 – GREENLAND
3 EXCURSIONS
08:30 – 12:30
The Evigheds Glacier flows from the Greenland Ice Sheet, the second largest ice body in the world after the Antarctic ice sheet, to the west. It is a slow-moving tidewater glacier, meaning this valley glacier winds down through the coastal mountains to the ocean at a snail's pace. As the glacial ice enters the water it begins to float and the eventually breaks apart into icebergs that float away down the fjord. The shades of blue and carved shapes of these ice floes are infinite.
3 Included Shore Excursions
Zodiac Cruise with Silversea Expedition team
Hiking with Silversea Expedition team
Kayaking with Silversea Expedition team
Day 11 – Ilulissat GREENLAND
Known as the birthplace of icebergs, the Ilulissat Icefjord produces nearly 20 million tons of ice each day. In fact, the word Ilulissat means "icebergs" in the Kalaallisut language. The town of Ilulissat is known for its long periods of calm and settled weather, but the climate tends to be cold due to its proximity to the fjord. Approximately 4,500 people live in Ilulissat, the third-largest town in Greenland after Nuuk and Sisimiut. Some people here estimate that there are nearly as many sled dogs as human beings living in the town that also boasts a local history museum located in the former home of Greenlandic folk hero and famed polar explorer Knud Rasmussen.
4 Included Shore Excursions
Ilulissat Iceberg Cruise
Ilulissat Town Walk
Hiking with Silversea Expedition team
Kayaking with Silversea Expedition team
1 Selected Shore Excursion
Ilulissat, Greenland Helicopter Experience
Day 12 SAT, JULY 22 – Sisimiut
Sisimiut ('The People of the Fox Holes') is Greenland's second city, the largest Arctic City in North America, and a hub between the warmer South and the frozen North of the country. With a young, dynamic population, including students from all over the country, Sisimiut is one of the fastest growing cities in Greenland. Inhabited for more than four and a half thousand years, the Danish Colonial Era saw the rapid development of the city into a trade centre, and the old buildings and artefacts can be seen at Sisimiut Museum, a collection of beautifully restored buildings displaying everything from ancient turf houses to modern Inuit art. The local artisans are considered some of the best in Greenland, and often sell their wares direct from their communal workshop in the harbour, where they barter with hunters for raw materials. Today, modern industry focussed on processing sea food and shipping; KNI, the state-run chain of general stores operating in even the most remote settlements is based in Sisimiut. Most residents still live in the colourful wooden houses Greenland is so well known for. Sisimiut's vast back country offers excellent opportunities for hiking and fishing, and the locals often use sled dogs or snowmobiles to get around their vast mountainous playground during the long winters. In the summer, one can walk as far as Kangerlussuaq International Airport, a trail also used for the gruelling Polar Circle Marathon, one of the toughest endurance events in the world.
3 Included Shore Excursions
A Taste of Greenland
Hiking with Silversea Expedition team
Kayaking with Silversea Expedition team
Day 13 – SUN, JULY 23 – Kangerlussuaq GREENLAND
ARRIVAL 05:00
Kangerlussuaq is a settlement in western Greenland in the Qeqqata municipality located at the head of the fjord of the same name (Danish: Søndre Strømfjord). It is Greenland's main air transport hub and the site of Greenland's largest commercial airport. The airport dates from American settlement during and after World War II, when the site was known as Bluie West-8 and Sondrestrom Air Base. The Kangerlussuaq area is also home to Greenland's most diverse terrestrial fauna, including muskoxen, caribou, and gyrfalcons. The settlement's economy and population of 512 is almost entirely reliant on the airport and tourist industry.
RETURN SUN, JULY 23
Charter/Group flights
In order to streamline the embarkation and/or disembarkation procedure, Silversea will provide charter or group space flights as required by the itinerary. Cruises with embarkation or disembarkation in Puerto Williams, Longyearben, Kangerlussuaq and other ports may be included in this, as outlined in the booking confirmations.
Hotel SUN, JULY 23
Silversea will offer a post-cruise hotel night/s prior to returning home, as indicated on your booking invoice, depending on Silversea's air programme flight schedule.
In the case that your flight is the same day, we will offer a hotel day-use. Most of our hotels are centrally located in the city centre, however, we also partner with several airport properties to accommodate guests on very early/late flight schedules.
WHAT'S INCLUDED
Air Programme
In-country flights (when required by the itinerary)
Pre & Post-cruise hotel nights/day-use
Personalised service – the best crew-to-guest ratio in expedition cruising
Butler service in every suite – all guests are pampered equally
Open-seating dining options – dine when and with whomever you please
Beverages in-suite and throughout the ship – select wines, premium spirits, specialty coffees and soft drinks, plus your own tailored mini-bar
In-suite dining and 24-hour room service – available 24 hours aboard Silver Explorer and Silver Cloud, and from 06:00 to 23:00 aboard Silver Origin
Enrichment lectures by a highly qualified Expeditions Team
Guided Zodiac, land and sea tours, and shoreside activities led by the Expeditions Team
Gratuities always included in your fare
WHAT'S NOT INCLUDED
International flights – optional
Cancelling insurances